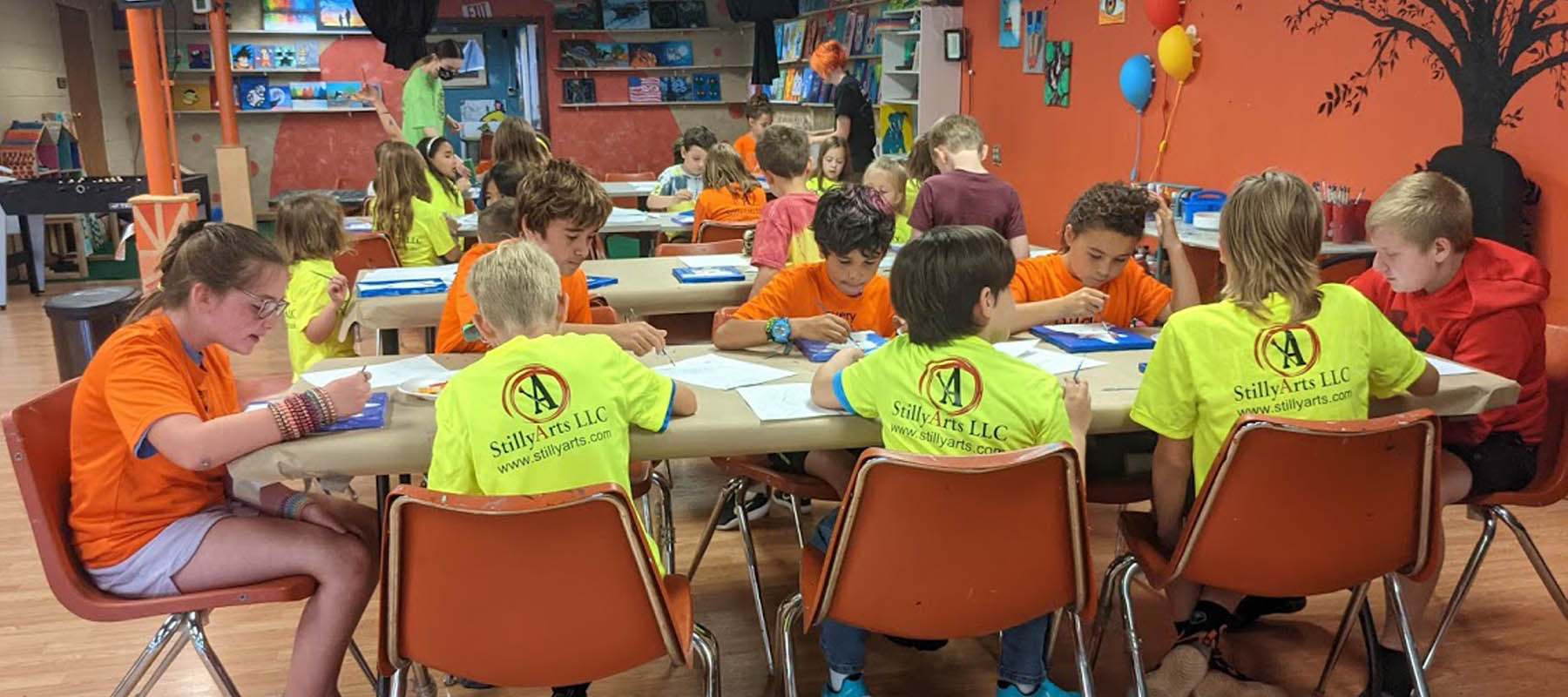 ART
Creative expression, Self-confidence and hands on learning with fun loving and expertly qualified teachers in a fresh and welcoming space. 
Schedule: *all sessions are an hour long except fridays paint and pizza party.
Annual registration fee is due at first class- $25/year
Mondays:5:00pm- Art Studio (5-8 years)
Tuesdays:2:00pm - Sculpture Class for adultDrama classes (8 - teens)5:00pm - Art Studio (9-12 years)5:30 - Private Studio
Wednesdays:
9:30am - Process Art (Toddlers 2-5 years) *upcoming
4:30 pm - Embroidery and Crochet (6 -12 years)5:30pm - Line dancing lessons for teens and adults.6:30pm - Adult Art Classes
Thursdays:1:00pm - 4:00pm - Open Studio *upcoming5:30pm - Private Studio
Fridays:4:00pm- Sewing (6 - teens)*upcoming5:30pm- Paint and Pizza party / Ceramics and pizza (2 hours of family event) Register here for paint party: https://stillyarts.com/paintparty
Saturday & SundaysStudio is booked for private event.--------------------------------------------------------------------------------------------------------------------------------------------------------------------
Class Descripton
Art Class
All art begins with a few skills; here's a chance to build your student artist's "tool-kit" and confidence with uncomplicated, contemporary projects based on classical techniques for life drawing, perspective, portraiture, animal studies, abstract 
composition…and plenty of imagination!  Media will range from conventional drawing and painting to collage, printmaking and "accidental art." Each assignment is "stand-alone" and potentially ready to take home the same day, but the skills being taught lead to an accrual of art understanding and problem-solving skills if attendance is consistent.
Class fee is $65 per month for 4 instructional art lessons. We provide all the art supplies needed for the class. 
Art Explorations class | Process art
This class is offered to 2 to 5 years old. These are the exploratory years when kids love getting their hands messy. We teach the magic of colors, basic shapes and painting in different styles. In Every class they take a masterpiece home and not just a smudge of paint.
Class fee is $65 per month for 4 instructional art lessons. We provide all the art supplies needed for the class. 
Basic principles of Art
This class is offered to 5 to 8 years old. In this class we work on their drawing and painting skills. Getting them familiar with great artists of all times and trying their methods while developing our own ways.
Class fee is $65 per month for 4 instructional art lessons. We provide all the art supplies needed for the class. 
Adult Art Classes
Drawing & Painting Classes for Adults OR Teens
(ongoing-year-round)
Receive hands-on instruction from the best in Stillwater! You will feel right at home as soon walk through the door. The first class is a simple and fun assessment to help you see the best place to start. We help you choose ideas, techniques and styles that will best meet your creative goals. Each class offers an amazing experience and truly wonderful connections with ongoing students. We love our little art families!
Private Session : $150 (4 hours), Group of 3+ : $65 per month (1 hr/week)
 
Sculpture class for Adults
Students set the pace. Students choose to focus on skill building or relaxation or social benefits of art studio. Adults love the music and relaxing atmosphere.
Three-dimensional clay sculpture. The class will do a head study and a full figure if time permits.  Alternative projects are welcome. Students will progress at their own pace, with instruction provided as appropriate. This is a fun class, where beginners can learn fundamentals of working in water-base clay and experienced sculptors can enjoy and share their interests. Completed sculptures will be fired as permanent art work
About the Instructor:
Mike Smolen is a retired professor from Biosystems Engineering at OSU.  He recognized his passion for sculpture upon coming to Stillwater in 1990 and taking advantage of a class at Multigraphis, when it shared the building with the Senior Citizens Center in Couch Park.  At Multigraphis he studied under Jim Franklin, of Perry, and Lou Hale, of Stillwater, both well-known professional sculptors.  Since 1998 he has been taking short courses in sculpture, pottery, and drawing and teaching Sculpture. Class runs 6 weeks, meeting once per week for 2 hrs.
Workshop fee: $150 (12 hrs of instructional time).
Pottery classes
Pottery for 6 to teen years: Learn the basics of throwing on the wheel to create mugs, bowls, and vases. Techniques and product include pinch pots, small sculptures,musical instruments and more through hand building. Pottery for Adults: Learn the fundamentals of working with glazes and clay. Introduction to hand buiding. Instruction will included small sculptures, coiled bowls and functional art work throught the span of rotating months. Finished pieces will be fired as permanent art work.
Class fee is $75 per month / one hour per week. (All tools and 10 pounds of clay included)
Embroidery, Sewing and Crotchet for all levels
6 years and older
Line Dancing 
Excited to announce Line Dance lessons (Wednesday at 5:30pm)!
Register here: https://stillyarts.com/signup
Is there a wedding reception in your future? Don't sit on the sidelines and watch while everyone else has fun on the dance floor. Join us as we practice all the most popular line dances such as Cupid Shuffle, The Wobble, Cottonhead Road, ChaCha Slide, Cotton Eye Joe, Electric Slide, The Git Up, Fancy Like, and more. No previous dance experience necessary.
Lead by Kristen Hadley, mother-of-the-groom twice in 2023 and one who believes a great way to learn is to teach.
Fee: $5/ lesson (register for minimum 4 sessions) | Wednesdays: 5:30pm
Latin dance classes
* currently offering only private lessons at $75/hr.
SALSA, BACHATA and KIZOMBA progressive Classes. Invite your friends! Or come alone! (no partner needed, we will rotate partners)
If you want to learn the Latin dances for social dancing, this is the perfect time to learn. Let's switch from Social Distancing to Social Dancing. We will have 4  one-hour classes of progressive Bachata, Salsa and Kizomba for a total of 12 classes. At the end of the 4 classes you will know enough to be able to understand the beat and dance to it. 
Call at 405-547-0401 to book your private / group lessons.
*we will teach Salsa, Bachata and Kizomba
*masks are optional
*no partner needed, we rotate partners
*no experience needed, we teach the basics
Bollywood Dance Classes
The Term "Bollywood"
The term Bollywood was created by combining two names, Bombay (the city now called Mumbai) and Hollywood. Bollywood based in Mumbai (Bombay), is India's – and the world's - largest film industry in terms of the number of films produced, and also the number of tickets sold each year. In fact, Bollywood has become so internationally ubiquitous that it now has it's own entry in the Oxford English Dictionary!
Bollywood dancing is a colourful, dynamic and highly theatrical dance style seen in Indian films. It combines classical forms of dance including traditional Indian, folk, salsa, belly-dance while also incorporating more contemporary western forms such as hip hop, jazz and funk. Having no set rules, Bollywood dancing is the perfect means to encourage freedom of expression.
Join our Bollywood team!
Neha Gupta, Owner of StillyArts will be hosting these classes every Thursday starting 31st August at 7:30pm. Class duration is 1 hour which includes step by step instruction of dance style and meaning of the bollywood songs to incorporate emotions with music.
For more information call us at 405-547-0401. Register today at: https://stillyarts.com/signup
Single class: $20
Monthly : $65 (4 classes)
Drama Classes
"Tell me and I will forget.
Show me and I will remember.
Involve me and I will understand."
Chinese Proverb
Dramatic Arts education is an important means of stimulating CREATIVITY IN PROBLEM SOLVING. It can CHALLENGE STUDENTS' PERCEPTIONS about their world and about themselves. Dramatic exploration can provide students with an outlet for emotions, thoughts, and dreams that they might not otherwise have means to express. A student can, if only for a few moments, BECOME ANOTHER, explore a new role, try out and experiment with various personal choices and solutions to very real problems-problems from their own life, or problems faced by characters in literature or historical figures. 
In this Drama class, instructor is using a wide range of unique drama activities to focus the bold, outspoken child and to draw out the quiet child and help them reach into themselves to discover their full potential.
We will be using a progressive curriculum that allows students to have some serious fun, while also enabling them to develop:
Acting skills

Public speaking skills

Creative Thinking Skills

Leadership Skills

Networking and Social Skills

Self Confidence and Self-Esteem

A Positive Approach to Life
Instructor: Courtney Pilkington  
Age: 8 and older
Class fee: $65/ month (4 sessions)